2019
Central Market
Central Market has been newly introduced.
Please read on below to see how the new marketplace works!
■ What are the benefits of the Central Market?
Central Market can be accessed the same way as the old marketplace was accessed before, through the button on the ESC menu and through a Marketplace Director NPC.

You will be able to access the Central Market from anywhere via in-game or via the mobile web page (currently mobile web version is under development and will be released with future announcement)

Before, you had to physically wait in front of the in-game Marketplace for a long time and go to the exact city in order to retrieve the item that was not sold. This was a huge inconvenience while using the old Marketplace.
After this update, you will be able to use the Central Market with the Silver and items within your "Central Market Warehouse" in an easier and more accessible manner.

The item prices will reflect the supply and demand of the economy.

Before, items had a set price range regardless of their supply or demand. Now, the prices of items on Central Market will fluctuate and reflect the current market situation better so that items can be sold and bought at their appropriate prices. (Certain items are excluded to this rule)

Now for the "Central Market Warehouse."

Before, you had to keep items and silver in your inventory or a town storage, but the Central Market will come with its own Warehouse for you to store them now. The Warehouse acts like an account for the Marketplace which allows you access and use from anywhere, at anytime. However, you'll have to talk to the Marketplace Director or use a Transaction maid/butler to move the items and Silver stored in the "Central Market Warehouse" to your Inventory/Storage. Simply click on the button "Manage Warehouse" and begin your buying and selling process.

Items that have varying prices will be displayed separately (called Volatile Price Items).

To prevent abuse of the Central Market, the Volatile Price Items will be shown on the first screen of the Central Market window make them easily visible to all Adventurers.

Difference between 'Purchase' and 'Order.'

You can use the 'Purchase' option to instantly buy any desired item as long as they are in-stock.
If you attempt to purchase an item at a price which is out of stock, an order will automatically be placed at your desired price. Popular and rare items were out-of-stock in the Marketplace often. You would have to invest a lot of time to bid for the item you wanted. Just place your Order and wait for your turn.
※ Placing orders in the Central Market is different from the old Marketplace due to the following: You must select 1 of the 3 groups of different price options given to you when placing orders.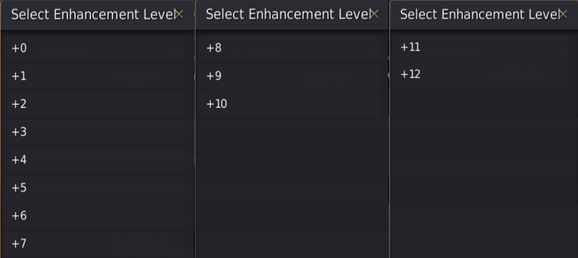 ※ When you place an order for an Enhanced item, the item with the lowest Enhancement level within its group will be prioritized to be purchased.

Accessories and equipment with Enhancement level of 13 and above can only be purchased by placing an Order.
For example, if an Order is placed for a weapon with an Enhancement Level within level +0 - +7, the Order will purchase an item with an Enhancement Level of +0. For +8 - +10, the Order will be placed at +8, and for +11 - +12, the Order will be placed for +11.
Items will be registered on the Central Market without a delay.

There was a 15-minute waiting time with the former marketplace. However, you can sell and register items without any waiting time in the new Central Market.
All Adventurers that have placed orders or listed items for sale will be displayed.
---
.※ The mobile website for the Central Market is not available at the moment. We will announce via our official announcement channels once they are available. Please access Central Market from in-game for now.
---
■ In detail… What will change?
[Marketplace] (previous version)

Adventurers traded directly with each other through the Marketplace.
When Adventurer 'A' registers an item, Adventurer 'B' could buy the item.
[Central Market]

Adventurers will now trade within the Central Market instead.
The market buys the items that Adventurer 'A' registers to sell. Then Adventurer 'B' comes along and buys the items off the market.

(Please note - the market will only stock a set amount of items at a time.)
① Selling Items
You will get the Silver for them when other Adventurers buy the item and make room for more stock.
② Purchasing Items
When the Marketplace Directors have the item in stock:

You can buy it right away from the Marketplace Directors.
When the Marketplace Directors do not have the item in stock:

You can place an order for the item at a price that is higher than the current market price.
The 'Set Desired Price' window allows you to set the price of the item you wish to buy your item with.
The 'Set Price' window shows you the current market price and what other Orders of other adventurers are placed. You can also select your desired price to purchase your item here.
The 'Total Cost' section shows you the total cost you would have to pay in case you decided to select an Enhancement Level of an item which will bring about additional costs.
You will get the item when another adventurer sells the item to the Marketplace Directors.

※ However, if the order is placed at the maximum possible price, then when an item is sold, it will go to a RANDOM order from these, not the first
■ How many Pearl items can I list to sell?
The number of Pearl items registrable at the Central Market will now depend on Family Fame.

Registration count will reset weekly. (Monday, UTC 00:00)
Number of Pearl items you can register is limited to 5 by default.
The limitations for the additional amount you can register change according to Family Fame.

Family Fame of 0 - 500 : 0 additional items
Family Fame of 501 - 1000 : 5 additional items
Family Fame of 1001 - 1500 : 10 additional items
Family Fame of 1501 - 2000 : 15 additional items
Family Fame of 2001 - 2500 : 20 additional items
Family Fame of 2501 - 9999 : 30 additional items
■ Will Taxes be the same as before?
Yes. You will receive 65% of the Silver from your sales. If you are using a Value Pack, you will receive 84.5%.
■ The difference between the Central Market and the previous Marketplace in a nutshell.
| | | |
| --- | --- | --- |
| | Central Market | Marketplace (Previous version) |
| Trade | Adventurer ↔ Marketplace ↔ Adventurer | Adventurer ↔ Adventurer |
| Marketplace Directors | You can manage your Warehouse through the Marketplace Directors. | X |
| Orders | Orders are placed at a higher price than the current market price. | Adventurers set their own price and places the order. |
| Listing Items for Sale | Items will be listed for sale at a lower price if the Marketplace Directors are fully stocked on the items. | X |
| Purchasing Enhanced Items | You can select a range of enhancement levels on items to purchase from. | You can only buy items that another Adventurer has registered on the marketplace. |
| Central Market Warehouse | O | X |
| Web Access to the Market | O (Currently unavailable) | X |
Central Market Q&A
Q. Isn't there a max price for an item?
A. Yes, there is. Just like the previous Marketplace, there is a Max Price for items listed on the Central Market.
However, the Central Market can flexibly change prices regularly within a max/min/base price depending on supply and demand in a more volatile manner than the previous Marketplace.
Q. If the purchase of items are made through the Central Market, how can I utilize Maid/Butlers now?
A. If you want to Register your items for sale at the Central Market, you need to do go through a Marketplace Director NPC.
Transaction Maid/Butler will now allow you to access to your Warehouse and move items from any place in BDO world.
Q. How can I move the purchased items from the Central Market to my Inventory?
A. Marketplace Director NPCs and Transaction Maid/Butler will now be able to transfer items and Silver back and forth from the character's Inventory to the Warehouse.
Q. Isn't there a notification system for the Central Market?
A. Notification system has been removed as the bidding system has been removed.
Please utilize placing the 'Order' function we have introduced in the Central Market.
Q. I've heard there are NPCs that sell items cheaper than the Central Market...
A. If your Amity surpasses a certain point with a specific NPC, that NPC might sell an item at a relatively inexpensive price.
If this item is something you need, go for it! Make sure to build up your Amity first!
Q. Where can I retrieve the items I've registered in the previous Marketplace?
A. The 'Marketplace' button has been replaced as 'Retrieve Items.' Please check this button to collect any Silver left from your sales or any listed items.
Q. Will Value Pack buff be applied?
A. Yes. If you want to sell your items at a price that has orders placed (that other players wanted to buy at that exact price), then you have to make sure to have the Value Pack activated before you sell your items as the money goes directly to your warehouse
---
We hope this announcement answered some of your questions about the Central Market.
Thank you