GM Notes
Mar 18, 2022, 10:00 (UTC)
BDO Monthly - March 2022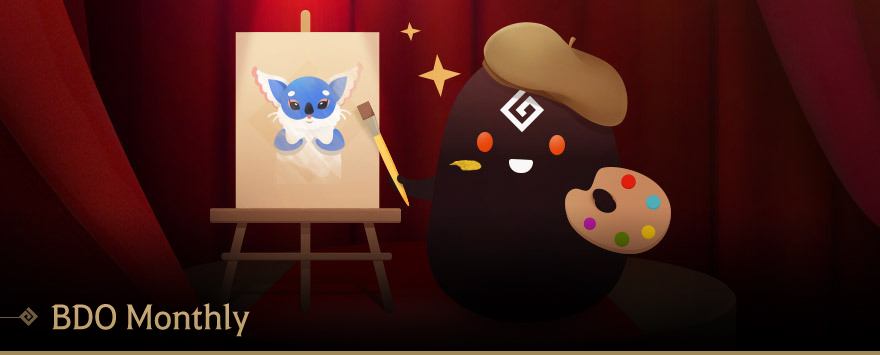 Greetings Adventurers,
BDO Monthly March Issue has just arrived! Grab a copy while it lasts!
This month our adventurers have shared with the community their coolest characters while fighting in monster zones, a beautiful video exploring the world of Black Desert and guides that will help you settle in different game contents! Are you ready? Let's start reading the magazine!
Magazine Cover
Drawings
Adventurer Mercuel shared this month a futuristic version of a Tamer wearing the Night Cat Outfit. We are not used to see our beloved characters in futuristic environments like this one, but the level of detail of the drawing is impressive. Is this how Black Desert will be in 2077?


▶ Tamer in Night Cat Outfit - Mercuel
Adventurer CalhounFirenight created the perfect fan art for the upcoming Eternal Winter expansion: A ferocious guardian with a black tiger in a snowy place. Can you guess the name of the outfit the Guardian is wearing? Yes, it's the new Winter Mountain Guardian Spirit that was released a few months ago. Are you ready as well to explore the Mountain of Eternal Winter?
▶ Here's my Guardian - CalhounFirenight
Adventurer TytoAlba shared with the community a drawing of their Valkyrie made with vector graphics. You may be wondering what vector graphics are: It's a mechanism for creating visuals directly from geometric shapes. At the beginning you can just see a Valkyrie with her eyes closed, but if you pay more attention there are some hands and eyes coming from behind her. It's the Black Spirit watching over the Valkyrie… Scary and beautiful at the same time, isn't it?


▶ I Did an art piece in honor of my Valkyrie! - TytoAlba
Adventurer Unikornu took some amazing screenshots of their Musa fighting at Swamp Fogans. We love the action captured in the screenshots; we can almost feel the movement of the blade cutting through the wind. We are totally sure those Fogans were no match for your renegade Musa!
Adventurer Shayas wanted to congratulate BDO and the community for their 6th anniversary by lighting up a lantern of wishes:
I enjoyed so much taking screenshots of this amazing game and I hope you enjoyed too!! I have a lot of nice memories of this game and I wish you all an amazing anniversary of BDO 💕
Adventurer Silverdaisy decided to take some screenshots of their Lahn while fighting at Crypt of Resting Thoughts for Deboreka Belts. We don't know if Silverdaisy was lucky that day, but what we know for sure is that their screenshots are amazing!
Video
Adventurer Sarawada created a music video showing the journey and most beautiful places Sarawada found during their adventured in the world of Black Desert. We recommend you watching every single second of the video as it's pure relish.
Guides
Adventurer Kaspar created a guide in German explaining how to create songs using the Shai music system. This guide explains everything detail of the music system, so you don't have an excuse now to start making your own songs.
Adventurer SHALLIK has compiled some video guides in French explaining how to build your own Carrack. In a few minutes, SHALLIK show us how easy it is to start this challenge, so we can build our king of the seas.
Adventurer Abysstars created a guide in Spanish showing the first steps to become a chef in the world of Black Desert. If you ever wanted to start working on this Life Skill and you never had the chance because you didn't know where to start, then Abysstars' guide will show you everything you need to know.
Rewards
March 2022 Issue's Adventurer of the Month Perks
★ 2,000 Pearls ★
BDO Monthly 30-day Title [Adventurer of the Month]
▲ Preview of the [Adventurer of the Month] Title
April 2022's Adventurer of the Month!
Who is Eligible?
- Adventurers who post on the Community > Fan Art or Tips & Guides from March 1, 2022 and before the end of March.
- Any Adventurer who posts fan art, screenshots and guides, is eligible to be an "Adventurer of the Month"!
- "Adventurers of the Month" will be selected every month, and the total number of selected Adventurers may differ from month to month.
April 2022 Issue's Adventurer of the Month Perks
- 2,000 pearls
- BDO Monthly 30-day Title [Adventurer of the Month]
* Additional Notices
- The [Adventurer of the Month] Title will be sent by in-game mail during a following maintenance. You must open the box sent to you by in-game mail to obtain the title. 
- The in-game mail will expire after 14 days and the box containing the title will expire after 7 days. Please make sure to open it before it expires.
- Your winnings cannot be transferred or ceded to another person. Prizes cannot be exchanged for other products of similar value.
- Screenshots, images, videos and guides that are featured in BDO Monthly may be shared on the official Black Desert website or social media channels.
- If your account is restricted for violating the Terms of Service agreement before you receive the event prizes, you may be disqualified as a winner and have any prizes withdrawn even after being selected as a winner.
Mar 18, 2022, 10:23 (UTC)
Omg. Thank you so much for picking my screenshots again! *Happy Musa noises* ♡^▽^♡ and GZ to everyone.
Mar 18, 2022, 15:40 (UTC)
Getting featured is a pleasant surprise! Happy to see everyone else's work, too!
Mar 19, 2022, 07:13 (UTC)
Saw that incredibly cool drawing by Mercuel before, made the cover! Congrats!

Love this new feature, great idea :)
Mar 19, 2022, 15:34 (UTC)
Thank you for featuring me, and congrats to everyone else! ♥