GM Notes
Jul 28, 2022, 00:00 (UTC)
BDO Monthly July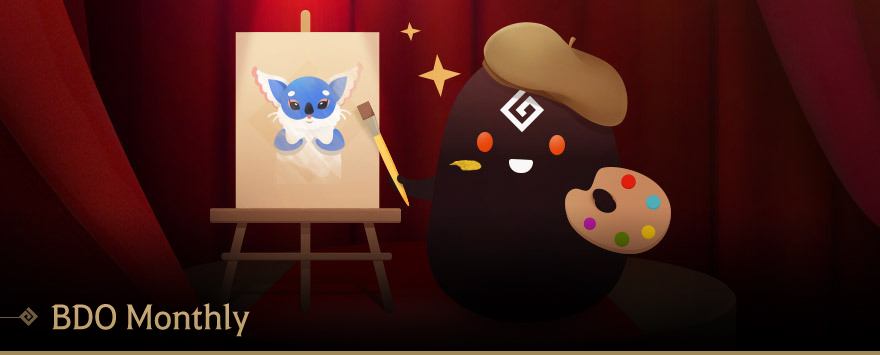 Greetings Adventurers,
The BDO Monthly July issue has just arrived! Grab a copy while it lasts!
July has been an incredible month full of creativity. Adventurers have shared amazing artworks and screenshots, guides, a video, and even an alternative cover for our Magazine. Let's start the reading!
Magazine Cover
Drawings
접기
Mercuel has shared with us a piece of their art created for a fellow Adventurer. Are you curious about how a work like this is made? Visit our Forum and you will find out the time-lapse video of this creation!
▶ Striker Art - Mercuel
The cover creator of the last edition of the magazine is back. This time Harnos creates for us a stunning Valkyrie. What do you guys think about her?


▶ Hyppolyta - Harnos
Adventurer Halihali is debuting in our Magazine with this with an image of a Nova commanding an army. Who will dare to go against her?


▶ My Nova Fanart - Halihali
This cute Baby Heilang has been created by Yakamori, you can maybe remember them from last May BDO Monthly edition when they did present us a Newborn Crimson Drake ♥. Will this Heilang be as scary as the Dragon once grown up?
▶ Baby Heilang 🖤 - Yakamori
접기
Adventurer Icewing appears for the first time in our monthly magazine! Who knows which stories their Shai and the ferret are going to share together.
What is better than a new edition of BDO Monthly? Well of course 2 BDO Monthly!
Martineso
created for us an alternative to our cover all about
Musa
.
Video
접기
Frixs shared with us a PvP Montage all about Ninja. Which is your favorite class to use in PvP?


Guide
접기
DId you ever try grinding at Olun? If the answer is no idrew's guide is perfect for you! Now that you know more about this difficult grind spot, are you going to try it?


July 2022 Issue's Adventurer of the Month Perks
★ 2,000 Pearls ★
BDO Monthly 30-day Title [Adventurer of the Month]
▲ Preview of the [Adventurer of the Month] Title
August 2022's Adventurer of the Month!
Who is Eligible?
- Adventurers who post on the Community > Fan Art or Tips & Guides from July 1, 2022 and before the end of July.
- Any Adventurer who posts fan art, screenshots and guides, is eligible to be an "Adventurer of the Month"!
- "Adventurers of the Month" will be selected every month, and the total number of selected Adventurers may differ from month to month.
August 2022 Issue's Adventurer of the Month Perks
- 2,000 pearls
- BDO Monthly 30-day Title [Adventurer of the Month]
Additional Notices
- The [Adventurer of the Month] Title will be sent by in-game mail during a following maintenance. You must open the box sent to you by in-game mail to obtain the title. 
- The in-game mail will expire after 14 days and the box containing the title will expire after 7 days. Please make sure to open it before it expires.
- Your winnings cannot be transferred or ceded to another person. Prizes cannot be exchanged for other products of similar value.
- Screenshots, images, videos and guides that are featured in BDO Monthly may be shared on the official Black Desert website or social media channels.
- If your account is restricted for violating the Terms of Service agreement before you receive the event prizes, you may be disqualified as a winner and have any prizes withdrawn even after being selected as a winner.
I´m so proud o.o Thank u very much ! 💕
Thanks for selecting my magazine cover!