Pearl Shop
Aug 3, 2022, 09:58 (UTC)
2022 Summer Outfit Catalog
Sand, sun, and surf. That's right. It's summertime!
Whether you're letting your worries drift away or having a splashing good time, make sure you're doing it while wearing 2022's summer style! ✿˘◡˘✿
▲ Get the first look here!
| | |
| --- | --- |
| Category | Outfit Name |
| Male Classes | Mr. Mussels |
| Female Classes | Shell Belle |
| Shai Class | [Shai] Conch Cherub |
Are you a Mr. Mussels, Shell Belle, or maybe a Conch Cherub?
No matter what class you play, there's an ocean-themed outfit for you!
New Shell Belle on August 24!
We're releasing a new design for the [Female Class] Shell Belle armor!  
And son, on August 24, you'll be able to express yourself with the new Shell Belle Armor (Shucked). 
If you own the previous Shell Belle armor, you can bring it to Tranan Underfoe in Velia to freely exchange it. 
#Refreshing #Blue🌊
The Shell Belle's design and materials were inspired by iridescent nacres (mother of pearl) and mysterious sea creatures found deep within the ocean. 
You can turn the outfit's cape on and off to show off a variety of different styles. Make sure to take a close look at the cardigan's hem and be "wowed" by the mermaid tail-inspired designs!  
Here's Shai's Conch Cherub outfit dyed in blue. It's 100% guaranteed to show up Shai's adorable charm! 
Aren't the round hair accessories a perfect match with her bracelets?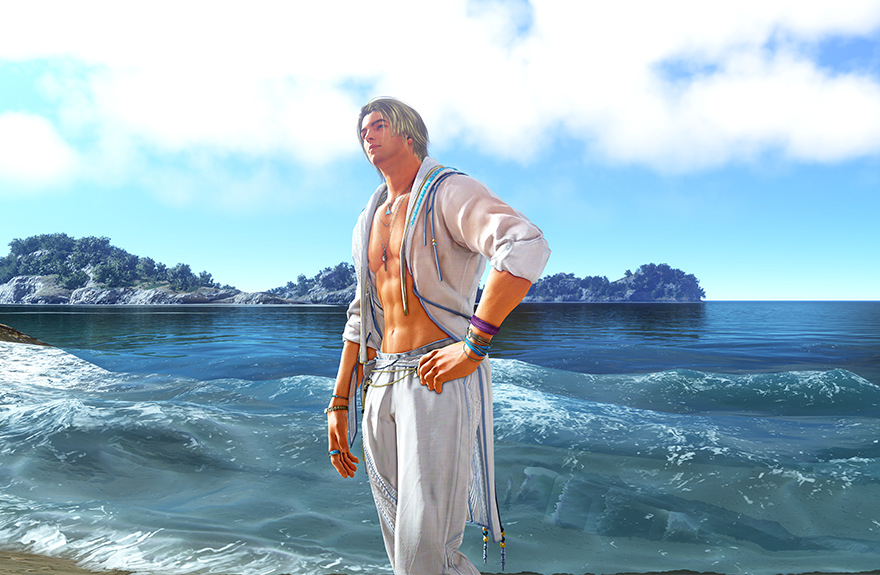 And lastly, we have the wave-inspired Mr. Mussels outfit! 
It's decked out with all the summer accessories you need to look your best on the beach. :D 
 #Beach #☀️set  
 #Sunny #Morning ☕ 
#Summer #Bling ✨ 
* The outfits displayed in the images of this notice may differ slightly from how they appear in-game due to the dye colors, lighting, and filming conditions. 
* Check specific outfit details after the August 3 maintenance in the Pearl Shop (F3).