GM Notes
Aug 24, 2022, 15:00 (UTC)
BDO Monthly August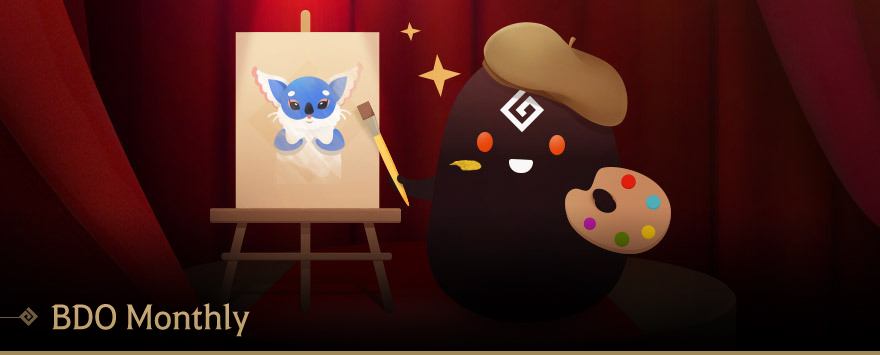 Greetings Adventurers,
The BDO Monthly August issue has just arrived! Grab a copy while it lasts!
August has been an incredible month full of creativity. Adventurers have shared amazing artworks and screenshots, guides, and some Fanmade comics. Let's start the reading!
Magazine Cover
Drawings
접기
Adventurer Shiromaki is debuting in our Magazine with this with an original drawing. Feels like this could be the cover of BDO Manga, don't you guys also think so?
▶ BDOfanart - Shiromaki
Adventurer Rhiin is back this month with this Fan Art of a Dark Knight and her Black Spirit. What has her companion requested her to do?


▶ A Deadly Deal - Rhiin
Justice is the main cornerstone for a Valkyrie and she would do anything to achieve it and adventurer WickedWazer created an amazing piece of art that perfectly shows us this.


▶ Crusade! - WickedWazer
Screenshots
접기
Adventurer ShadowSATELLIZER shared a screenshot of their Drakania and Mystic. Can you recognize the outfit they are wearing? Their Drakania is wearing the Oblivion Outfit, while their Mystic is equipped with the Lupine Outfit!
Unikornu is back and this time they takes us on a trip in Thornwood Forest. Adventurers come here seeking La Orzeca, did you get yours already?


Adventurer Mirmulnir went for an underwater adventure and explored Sycraia Underwater Ruins! Did you ever summon the Ruins boss during your time there?


Comics
Guide
접기
Adventurer Pheteven created an outstanding guide about Succession Guardian. All you need to know about this class can be found in this detailed guide. Will you try it out?
▶ Succession Guardian Guide - Pheteven
The perfect Screenshot seems impossible? Is the light feeling wrong or is the focus missing? Sorrow has the answer! Take a look at their guide about Screenshots and become a Master.
August 2022 Issue's Adventurer of the Month Perks
★ 2,000 Pearls ★
BDO Monthly 30-day Title [Adventurer of the Month]
▲ Preview of the [Adventurer of the Month] Title
September 2022's Adventurer of the Month!
Who is Eligible?
- Adventurers who post on the Community > Fan Art or Tips & Guides from August 1, 2022 and before the end of August.
- Any Adventurer who posts fan art, screenshots and guides, is eligible to be an "Adventurer of the Month"!
- "Adventurers of the Month" will be selected every month, and the total number of selected Adventurers may differ from month to month.
September 2022 Issue's Adventurer of the Month Perks
- 2,000 pearls
- BDO Monthly 30-day Title [Adventurer of the Month]
Additional Notices
- The [Adventurer of the Month] Title will be sent by in-game mail during a following maintenance. You must open the box sent to you by in-game mail to obtain the title. 
- The in-game mail will expire after 14 days and the box containing the title will expire after 7 days. Please make sure to open it before it expires.
- Your winnings cannot be transferred or ceded to another person. Prizes cannot be exchanged for other products of similar value.
- Screenshots, images, videos and guides that are featured in BDO Monthly may be shared on the official Black Desert website or social media channels.
- If your account is restricted for violating the Terms of Service agreement before you receive the event prizes, you may be disqualified as a winner and have any prizes withdrawn even after being selected as a winner.