GM Notes
Sep 30, 2022, 12:00 (UTC)
BDO Monthly September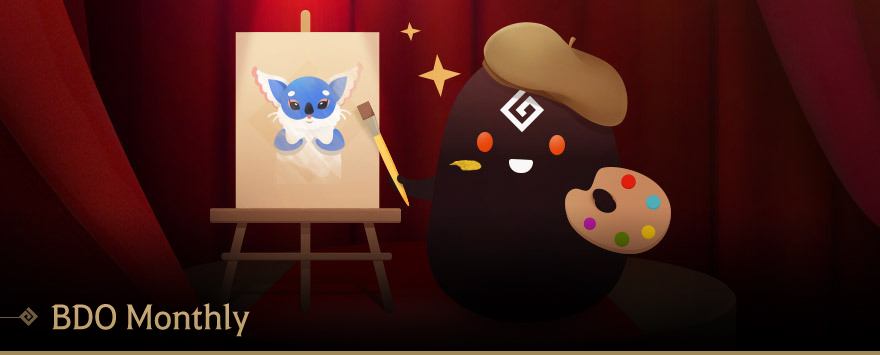 Greetings Adventurers,
The BDO Monthly September issue has just arrived! Grab a copy while it lasts!
September has been an incredible month full of amazing artworks and screenshots. Let's start the reading!
Magazine Cover
Drawings
접기
Adventurer Rhiin appears again in our issue this time with their friend and Neighbour Heilang! Heh? Wait... Isn't Heilang usually smaller?


▶ My Neighbour Heilang - Rhiin
Adventurer Acantaraa has a peculiar theory about Garmoth and her hearts! Do you think Garmoth was done giving her heart away to come up with such a plan? 


▶ Garmoth's secret - Acantaraa
Adventurer Borbuleta showed us their Tamer as a Kitsune, a Japanese folklore Fox, with a re-imagined outfit! Do you think it's inspired by the Spring Blossom Outfit? 
▶ Tamer Kitsune - Borbuleta
Screenshots
접기
Their Tamer in the Celestial Tide Outfit dancing next to the Sea of Stars and their Shai playing their Florchestra Contrabass with friends during at the Terrmian Waterpark, that's what Adventurer Mirmulnir potraited for us this month.
▶ Happy Shai ♫ ☼ 🌴 - Mirmulnir
#WednesdayScreenshot has been a trend for quite a while now and Adventurer Magdalena joined it with the amazing pictures. Did you ever followed this trend?


"Play Nice, Play Tamer." that's how Adventurer Akinyaa introduced us their Tamer screenshots. Do you like the combat style of this class?


Adventurer Unikornu took us back to Thornwood Forest this time to show us their beautiful Dark Knight. Which of the Outfit she's wearing do you like the most, Ataraxia or Rosa Cassius?


The Summer might be over but with their pictures Adventurer 0ktober is making us feel like this season never ended. Is it the same for you guys?


September 2022 Issue's Adventurer of the Month Perks
★ 2,000 Pearls ★
BDO Monthly 30-day Title [Adventurer of the Month]
▲ Preview of the [Adventurer of the Month] Title
October 2022's Adventurer of the Month!
Who is Eligible?
- Adventurers who post on the Community > Fan Art or Tips & Guides from September 1, 2022 and before the end of September.
- Any Adventurer who posts fan art, screenshots and guides, is eligible to be an "Adventurer of the Month"!
- "Adventurers of the Month" will be selected every month, and the total number of selected Adventurers may differ from month to month.
October 2022 Issue's Adventurer of the Month Perks
- 2,000 pearls
- BDO Monthly 30-day Title [Adventurer of the Month]
Additional Notices
- The [Adventurer of the Month] Title will be sent by in-game mail during a following maintenance. You must open the box sent to you by in-game mail to obtain the title. 
- The in-game mail will expire after 14 days and the box containing the title will expire after 7 days. Please make sure to open it before it expires.
- Your winnings cannot be transferred or ceded to another person. Prizes cannot be exchanged for other products of similar value.
- Screenshots, images, videos and guides that are featured in BDO Monthly may be shared on the official Black Desert website or social media channels.
- If your account is restricted for violating the Terms of Service agreement before you receive the event prizes, you may be disqualified as a winner and have any prizes withdrawn even after being selected as a winner.