GM Notes
Nov 30, 2022, 14:00 (UTC)
BDO Monthly November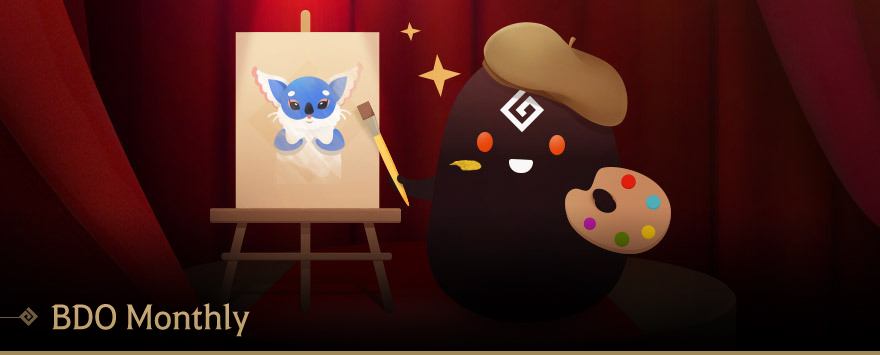 Greetings Adventurers,
The BDO Monthly November issue has just arrived! Grab a copy while it lasts!
November has been a fantastic month full of creativity. Adventurers have shared so many incredible artwork and screenshots, guides, and videos, that we had a really tough time choosing who to feature and we even had to create a brand new category! So let's start reading!
Magazine Cover
Drawings
접기
"In a far, far away Cyberpunk environment there was a Warrior roaming the streets!" With Adventurer Mercuel art we could start a story just like this! What do you think of this parallel world with the Warrior? Could it be that The Magnus take him there?
▶ Warrior in a Cyberpunk Environment 🌌🌃 - Mercuel
This month, adventurer Shuratoshi, shared with us quite some Artworks they made and in such different styles as well! We selected 2 of them for you but don't forget to go and check the others in the Forum!
Screenshots
접기
The battleground can be a very scary and dangerous place, but for Adventurer Harnos it is a source of inspiration and an amazing place to take screenshots! 
Unikornu strikes back again with their famous and amazing screenshots! This time with the World Bosses having their time to shine! Next time you see an Adventurer running around to get a good angle of the World Boss, protect them! They might be taking some screenshots like these ones!


Never disturb a Sorceress! Or Adventurer Icewing will expel you from Grána's library! This Adventurer is back and showing their Sorceress with the Salanar's Outfit. Which is your favorite library in the world of Black Desert?
Video
접기
Sizyphe decided to make a video about what two powerful classes can do to achieve their goals, even if it means making an alliance! Who do you think, in the world of the Black Desert, would be part of it? 


Carving
접기
Adventurer Acantaraa went deep, deeeeeep beyond the event horizon, and brought us a wood carving of Wuju, The administrator of the Magnus. They also brought a new category to our BDO Monthly!
Story
접기
Heroes lead always a double life and need to maintain their identity a secret, but when the time calls the Special Hazard Assault Infantry (S.H.A.I) needs to jump into action! Adventurer Sorrow brought us this month a story about their Combat Suit S.H.A.I who encountered some friends... or new nemesis...
▶ Combat Suit S.H.A.I - Special Hazard Assault Infantry - Sorrow
November 2022 Issue's Adventurer of the Month Perks
★ 2,000 Pearls ★
BDO Monthly 30-day Title [Adventurer of the Month]
▲ Preview of the [Adventurer of the Month] Title
December 2022's Adventurer of the Month!
Who is Eligible?
- Adventurers who post on the Community > Fan Art or Tips & Guides from November 1, 2022 and before the end of November.
- Any Adventurer who posts fan art, screenshots and guides, is eligible to be an "Adventurer of the Month"!
- "Adventurers of the Month" will be selected every month, and the total number of selected Adventurers may differ from month to month.
December 2022 Issue's Adventurer of the Month Perks
- 2,000 pearls
- BDO Monthly 30-day Title [Adventurer of the Month]
Additional Notices
- The [Adventurer of the Month] Title will be sent by in-game mail during a following maintenance. You must open the box sent to you by in-game mail to obtain the title. 
- The in-game mail will expire after 14 days and the box containing the title will expire after 7 days. Please make sure to open it before it expires.
- Your winnings cannot be transferred or ceded to another person. Prizes cannot be exchanged for other products of similar value.
- Screenshots, images, videos and guides that are featured in BDO Monthly may be shared on the official Black Desert website or social media channels.
- If your account is restricted for violating the Terms of Service agreement before you receive the event prizes, you may be disqualified as a winner and have any prizes withdrawn even after being selected as a winner.