GM Notes
Jul 31, 2023, 14:20 (UTC)
BDO Monthly - July 2023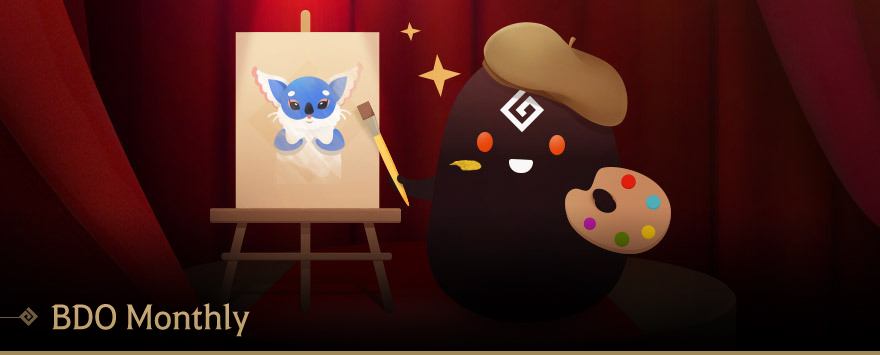 Greetings Adventurers,
The BDO Monthly July issue has just arrived! Grab a copy while it lasts!
Enjoy this issue of BDO Monthly with a drink of your liking while cooling on the Summer breeze! As always, between all the amazing submissions there was a lot of talent and we had a really tough time choosing who to feature... So without further ado, let's start reading and find out!
Magazine Cover
Drawings
접기
Adventurer Yakamori couldn't wait for Maegu's Awakening early in July and so couldn't we! Yakamori brought us this awesome fanart of Maegu's cute fox and Woosa's butterfly in the middle of the famous bloom of fox spirit charms created by Maegu!
▶ together as one ♥ - Yakamori
Adventurer CalhounFirenight  finished their amazing fanart of Mythical Doom just in time for its debut! Even though the flames are orange and not deep blue, we think they look most alike! Did you enjoy the new look of Mythical Doom?
▶ The Divine Ruler - CalhounFirenight
Screenshots
접기
Adventurer Mirmulnir returns to BDO Monthly with two screenshots sessions of Woosa Awakening! In a flower field with their friend, or under the moonlight, Mirmulnir managed to mesmerize us!
Adventurer Harnos showed their fantastic Mystic Water Dragons and now came back to this issue to show us their favorite scenery in the Land of the Morning Light. Which ones are your favorite locations?
Adventurer Dreamness also went on a journey through the Land of the Morning Light and showed us an amazing glimpse of their findings! Did you cross paths with Dreamness during this journey? 
Adventurer Acantaraa joins us this month with amazing fighting screenshots! When in the Land of the Morning Light, we are sure you heard rumors and stories about the Gumiho, but did you meet the Nine Tail Fox in the Woosa Awakening story?
Video
접기
Adventurer Naelie appears for the first time in BDO Monthly with a small recap of the Shai dancing event that happened in EU! We hope you can feel from this video the blast that both the EU GMs and EU Adventurers had!
▶ Dancing Shais Event in Velia (EU) - Naelie
Guide
접기
Adventurer SquirrelMaster closes once again our BDO Monthly with a funny comic about patience. We hope all of our readers enjoy ending our BDO Monthly issues with laughter, just like us! 
July 2023 Issue's Adventurer of the Month Perks
★ 2,000 Pearls ★
BDO Monthly 30-day Title [Adventurer of the Month]
▲ Preview of the [Adventurer of the Month] Title
August 2023's Adventurer of the Month!
Who is Eligible?
- Adventurers who post on the Community > Fan Art or Tips & Guides from August 1st, 2023 and before the end of August.
- Any Adventurer who posts fan art, screenshots and guides, is eligible to be an "Adventurer of the Month"!
- "Adventurers of the Month" will be selected every month, and the total number of selected Adventurers may differ from month to month.
August 2023 Issue's Adventurer of the Month Perks
- 2,000 pearls
- BDO Monthly 30-day Title [Adventurer of the Month]
* Additional Notices
- The [Adventurer of the Month] Title will be sent by in-game mail. You must open the box sent to you by in-game mail to obtain the title. 
- Please note that using the [Adventurer of the Month] title item received via the in-game mail (B) will not refresh its expiration date. You have to wait until your current title is expired to apply the new title.
- The in-game mail will expire after 14 days and the box containing the title will expire after 7 days. Please make sure to open it before it expires.
- Your winnings cannot be transferred or ceded to another person. Prizes cannot be exchanged for other products of similar value.
- Screenshots, images, videos and guides that are featured in BDO Monthly may be shared on the official Black Desert website or social media channels.
- If your account is restricted for violating the Terms of Service agreement before you receive the event prizes, you may be disqualified as a winner and have any prizes withdrawn even after being selected as a winner.