GM Notes
Oct 31, 2023, 18:05 (UTC)
BDO Monthly - October 2023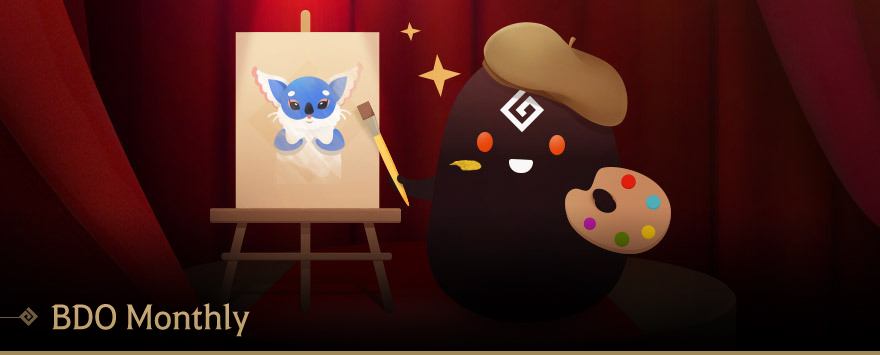 Greetings Adventurers,
The October BDO Monthly issue has just arrived! Grab a copy while it lasts!
With the spooky season around the corner, we can't wait to start reading what this month's issue brought us! We certainly had a difficult time choosing from all the talented art, screenshots, videos, and guides, so without further ado let's find out who is featured in BDO Monthly!
Magazine Cover
Drawings
접기
Adventurer BunnyoBuu comes back to BDO Monthly with a soft and peaceful drawing of Shai amidst the Cherry Blossoms. The tones and contrast made it impossible for us not to feature it! Which class would you love to see drawn by BunnyoBuu next?
▶ Shai portrait - BunnyoBuu
Adventurer DYRIMAN debuts in BDO Monthly with an amazing fanart of Awakening Maegu! Even though we know that Maegu has white hair by default, we think the pink hair fits the Flamekissed Outfit! Who would you like to see drawn next by DYRIMAN?
▶ Awakening maegu - DYRIMAN
Screenshots
접기
Adventurer Unikornu returns to this edition of BDO Monthly with their famous screenshot sessions! One depicts a cozy and warm stroll with a Hedgehog through the Autumn leaves and another shows the stunning power moves of Musa in his new outfit: Stygian Wraith!
We will need to ask for a screenshot guide to Unikornu to learn how to capture the movements of their beloved pets and Musa attacks!
▶ Hedgehog stroll through the Autumn leaves 🦔 - Unikornu

Adventurer Mirnakova is also welcomed to BDO Monthly with the serene and beautiful scenery of the Land of the Morning Light. The sun reflecting the beauty and diversity of this new region stunned us! Let us know which is your favorite screenshot and where you think it was taken!
Adventurer Harnos returns to BDO Monthly with two amazing screenshot sessions! One with Arne and Tett from Wizard and Witch, respectively, and another from Atoraxxion! The vibrant colors are what captivated us the most in both of them! Which Screenshot captivated you?
Adventurer Mirmulnir makes a comeback to BDO Monthly as well with powerful and stunning screenshots in Ash Forest with Kunoichi! Who would have thought that such a dangerous monster zone could be also the perfect scenario for such mysterious and haunting pictures?
접기
Have you tried out Succession Nova and want to become more powerful as a Nova main? Don't worry! Just follow Adventurer's Strega guide and you will be a Nova Main in a matter of time!
▶ Succession Nova PvE - Strega
Were you curious about how Succession Woosa would be in PvE but didn't know which add-ons or combos to try? Be sure to follow Adventurer's TheChilliers guide to be a Woosa Main in no time!
▶ Woosa Succession Guide - TheChilliers
October 2023 Issue's Adventurer of the Month Perks
★ 2,000 Pearls ★
BDO Monthly 30-day Title [Adventurer of the Month]
▲ Preview of the [Adventurer of the Month] Title
November 2023's Adventurer of the Month!
Who is Eligible?
- Adventurers who post on the Community > Fan Art or Tips & Guides from October 1st, 2023, and before the end of October.
- Any Adventurer who posts fan art, screenshots, and guides, is eligible to be an "Adventurer of the Month"!
- "Adventurers of the Month" will be selected every month, and the total number of selected Adventurers may differ from month to month.
 November 2023 Issue's Adventurer of the Month Perks
- 2,000 pearls
- BDO Monthly 30-day Title [Adventurer of the Month]
* Additional Notices
- The [Adventurer of the Month] Title will be sent by in-game mail. You must open the box sent to you by in-game mail to obtain the title. 
- Please note that using the [Adventurer of the Month] title item received via the in-game mail (B) will not refresh its expiration date. You have to wait until your current title is expired to apply the new title.
- The in-game mail will expire after 14 days and the box containing the title will expire after 7 days. Please make sure to open it before it expires.
- Your winnings cannot be transferred or ceded to another person. Prizes cannot be exchanged for other products of similar value.
- Screenshots, images, videos and guides that are featured in BDO Monthly may be shared on the official Black Desert website or social media channels.
- If your account is restricted for violating the Terms of Service agreement before you receive the event prizes, you may be disqualified as a winner and have any prizes withdrawn even after being selected as a winner.