Events
[Events] A Summer Night to Remember
Black Desert
Jul 28, 2021, 10:00 (UTC)
As you escape the summer heat with the Terrmian Festival, take some screenshots of the festivities and send them to us! 
 
We'll make you a special photocard and portrait photo to remember your Terrmian summer!  
A Summer Night to Remember
Event Period
- July 28, 2021 (Wed) after maintenance - August 8, 2021 (Sun) 23:59 (UTC)
Event Details
① During the event, visit Terrmian to partake in the festivities!
② Take amazing screenshots at Terrmian and submit them to us!
③ You'll need ten screenshots with Terrmian as a background, and one screenshot from the Beauty Shop (F4).
Category

Type

 of 

Photo

Ten Terrmian Screenshots

Commemorative Photocard

One Beauty Shop (F4) Screenshot
Portrait Photo
Screenshot Tips!
[All]
- The quality of the photocards and portrait photos will depend on your screenshot's settings (Resolution/Graphics).
[Photocard]
- Make sure your screenshot has space around its center (top, bottom, left, right). If there's not enough space, your photocard may have blank spaces.
- Make sure your character isn't too far away from the center of the screenshot! Otherwise, your character might not appear inside the photocard.

[Portrait Photo]
- Make sure your screenshot is taken from the in-game Beauty Shop (F4)! Your portrait photo will look better if you do so.
- Make sure your character's entire body or upper body is completely visible in your screenshot!
- If the background is reflected or visible between your character's hair, it may also be left visible in the portrait photo.
④ Once you've finished taking your screenshots, upload your screenshots and fun Terrmian stories at the submission link below!
- Submission Period: July 28, 2021 (Wed) after maintenance - August 8, 2021 (Sun) 23:59 (UTC)
Event Rewards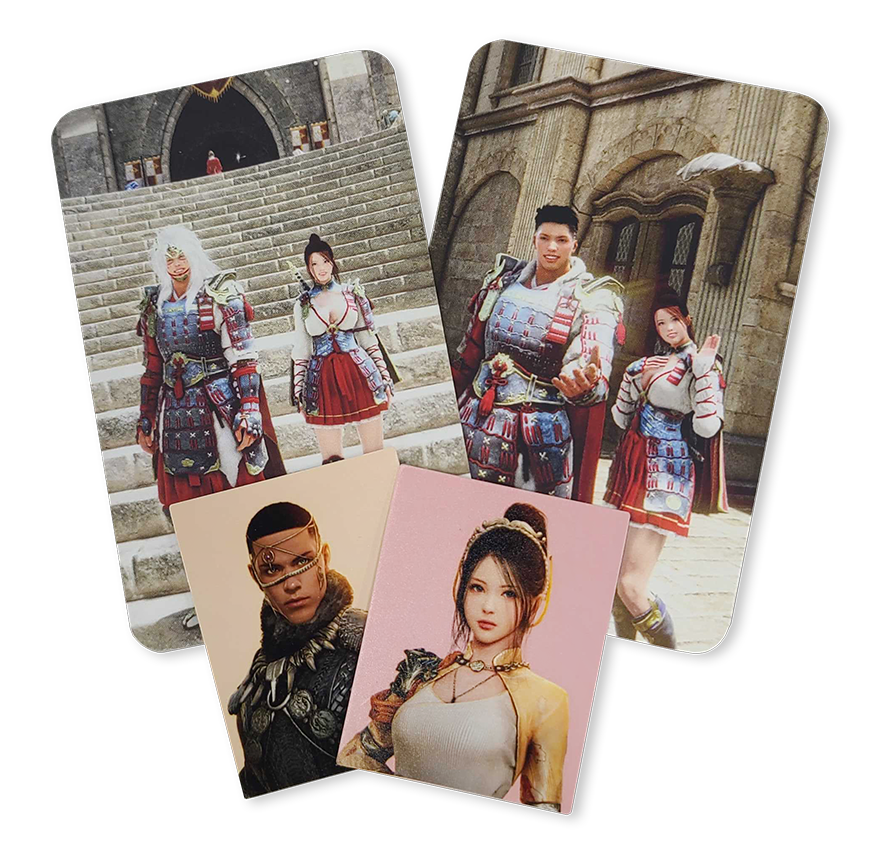 Event
Rewards
30 event submissions will be selected!
- Four Double-sided Photocards
- Two Portrait Photos
* Additional Notices
- If an announcement is needed, the winners announcement will be provided on the official website within 2 weeks after the end of the event. However, Pearl Abyss reserves the right to change this schedule depending on the circumstances.
- Pearl Abyss reserves the right to the ownership of adaptation rights for all screenshots, videos, and all other content submitted for this event. Pearl Abyss may also use these contents at its own discretion for promotional purposes without restrictions to time or location.
- Event winners will be contacted by email and given instructions to submit an "Agreement to the Collection and Use of Personal Information." If this agreement is not submitted with the specified time period, the event winner will be disqualified.
- Pearl Abyss will receive your agreement to collect your personal information in order to ship the event prizes.
- You will not receive the event rewards if you use someone else's screenshots to participate in the event.
- The number of winners is subject to change depending on the number of event participants.
- Pearl Abyss reserves the right to change the event prizes without prior notice depending on the circumstances.
- If your account is restricted for violating the Operational Policy before you receive the event prizes, you may be disqualified as a winner and have any prizes withdrawn even after being selected as a winner.
- Pearl Abyss reserves the right to change or cancel the event depending on mitigating circumstances. If changes are made, they can be found on this event page.
- Event items may have restrictions (sale/trade) and/or different binding settings/expiration dates. Due to this reason, these items cannot be transferred or restored.
- For details such as whether the item is bound, please refer to the in-game item description.
- Items and/or rewards that were normally used cannot be recovered.
- Participating in the event using inappropriate methods may result in a cancellation/retrieval of your reward(s) and/or restriction from the game.
- For any questions or concerns regarding the event, please contact us via [Support].
- Any content not mentioned on this page is subject to the [Black Desert Event Rules].