Events
Feb 24, 2021, 00:00 (UTC)
Black Desert Online Security Campaign
Greetings Adventurers,
We, at Pearl Abyss, want to help our Adventurers keep their valuable account safe, and that's why we've prepared the Black Desert Online Security Campaign event to spread the word!
Set Up OTP to Protect Your Account and Get Special Rewards!
Wait! What's OTP?
A One-Time Password, also referred to as OTP, is a "dynamic/temporary" password that is valid for one login. Instead of a static or fixed password, it is a randomly generated dynamic/temporary password that was created to mitigate the risk from using the same password repeatedly. Although there are some hurdles with the set up and authentication, this is still a reliable way to keep your account safer!
Black Desert Online's Many Other Security Services
- PC Registration Setting: Allows you to register up to 5 PCs that are the only PCs can access your Black Desert Online account.
[Go to the PC Registration Setting]
- Check Your Login History: View your account's login history for the most recent 6 months.
Event

1. 

Keep Your Account Safe

r

 With

OTP! (Updated)
Event Period
- Permanently On-going
Event Details
① Start your OTP set up or PC registration:
1) Login to the official Black Desert Online website.
- OTP Set Up: My page → Account Security Center → OTP Settings
- PC Registration: Black Desert Online Launcher → PC Registration
2) Complete your OTP set up and PC registration by following the steps below:
OTP Set Up
1. From the OTP setting page, click the [Register OTP] button and verify your identity.
2. Once you've viewed how it works and read the precautions related to the service, click [Register OTP].
3. Install an OTP verification application (e.g. Google Authenticator) on your smartphone.
4. Launch the installed application (e.g. Google Authenticator) and press the [+] button at the top of the application to register your OTP with "Barcode Scan" or "Enter Directly."
5. Enter the OTP code from the authenticator application.
PC Registration
1. Open the Black Desert Online launcher.
2. Click the Register PC icon at the top-right of the launcher.
3. After clicking the Register PC icon, verify your email from the verification screen.
4. Designate the name of PC you are registering.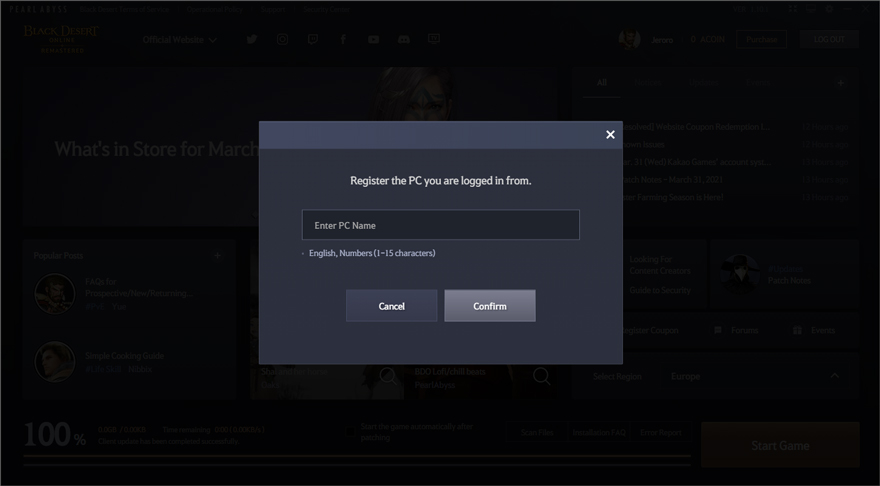 5. You've successfully registered your PC! Now, you can safely play Black Desert Online from only your registered PC.
* You can only register up to 5 PCs that can access your Black Desert account.
② All Adventurers who sign up for the OTP and/or PC Registration Service will immediately receive the "Old Moon Treaty Token" buff for all their characters in their Family. (The Old Moon Treaty Token is a +5% Item Drop Rate buff)
Event 2. Set Up OTP Before It's Too Late!
Event Period
- February 25, 2021 (Fri) after maintenance – March 31, 2021 (Wed) before maintenance
Event Details
① All Adventurers who sign up for the OTP service within the event period will receive an [Event] Blessing of Old Moon Pack (3 Days) x1.
* The event reward will be sent after the event ends during the March 31, 2021 maintenance.
* Additional Notices
- Pearl Abyss reserves the right to change or cancel the event depending on mitigating circumstances. If changes are made, they can be found on this event page.
- Participating in the event using inappropriate methods may result in a cancellation/retrieval of your reward(s) and/or restriction from the game.
- Event items may have restrictions (sale/trade) and/or different binding settings/expiration dates. Due to this reason, these items cannot be transferred or restored.
- For details such as whether the item is bound, please refer to the in-game item description.
- For any questions or concerns regarding the event, please contact us via [Support].
- Any content not mentioned in this page is subject to the [Black Desert Event Rules].