GM Notes
Oct 31, 2022, 00:00 (UTC)
BDO Monthly October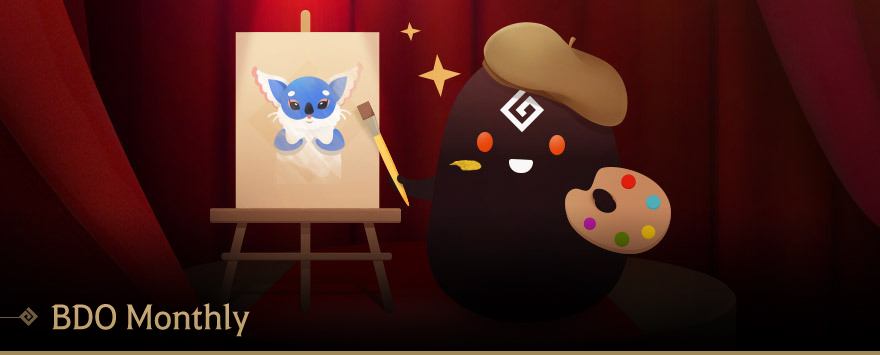 Greetings Adventurers,
The BDO Monthly October issue has just arrived! Grab a copy while it lasts!
October has been a fantastic month full of creativity. Adventurers have shared incredible artworks and screenshots, guides and videos. Let's start the reading!
Magazine Cover
Drawings
접기
Adventurer Harnos got their first Dream horse and created this piece of art to share their joy with us. Did you ever try to awaken a courser?
▶ My first t9..) - Harnos
Adventurer Rux brought us a possible concept of a Sage outfit with all the items and concepts linked to the enigmatic character. With Golden and Deep Blue clothing, we think this Sage Outfit would look nice on Sage! What are your thoughts?
▶ Succession Sage New Outfit Design - Rux
Adventurer Nicknero shared with us an artwork of their character created for them. This picture looks so realistic and the outfit really fits the character.
▶ Shell Belle fanart - Nicknero
Screenshots
접기
Adventurer Mirmulnir is back and this time has took us on a trip throughout different landscapes of Kamasylvia. Which one is your favourtite region in the world of Black Desert?
Unikornu is back and this time they takes us on a trip in Thornwood Forest while on the back of their Spooky Doom. We are starting to think this is their favourtie place for screnshots and we cannot deny the atmosphere there can create a perfect set.


Video
접기
Sizyphe decided to make a video about one of the many characters Black Desert has to offer! Go through the nostalgia of your own adventures by seeing this adventure video throughout all the Black Desert world!


Story
접기
Adventurer Sorrow is back this month and this time they created a story for us. Are you ready to be transported in their creation?
접기
Adventurer Ishgard wanted to help all the new players (or even veteran players) which were lost on their new/returning adventures, therefore they compiled all the Common Questions and Answers that you can have in BDO! Either you are new or returning again, make sure to read them all!
▶ Common Questions and Answers - Ishgard
October 2022 Issue's Adventurer of the Month Perks
★ 2,000 Pearls ★
BDO Monthly 30-day Title [Adventurer of the Month]
▲ Preview of the [Adventurer of the Month] Title
November 2022's Adventurer of the Month!
Who is Eligible?
- Adventurers who post on the Community > Fan Art or Tips & Guides from October 1, 2022 and before the end of October.
- Any Adventurer who posts fan art, screenshots and guides, is eligible to be an "Adventurer of the Month"!
- "Adventurers of the Month" will be selected every month, and the total number of selected Adventurers may differ from month to month.
November 2022 Issue's Adventurer of the Month Perks
- 2,000 pearls
- BDO Monthly 30-day Title [Adventurer of the Month]
Additional Notices
- The [Adventurer of the Month] Title will be sent by in-game mail during a following maintenance. You must open the box sent to you by in-game mail to obtain the title. 
- The in-game mail will expire after 14 days and the box containing the title will expire after 7 days. Please make sure to open it before it expires.
- Your winnings cannot be transferred or ceded to another person. Prizes cannot be exchanged for other products of similar value.
- Screenshots, images, videos and guides that are featured in BDO Monthly may be shared on the official Black Desert website or social media channels.
- If your account is restricted for violating the Terms of Service agreement before you receive the event prizes, you may be disqualified as a winner and have any prizes withdrawn even after being selected as a winner.