GM Notes
Dec 9, 2021, 15:00 (UTC)
BDO Monthly - December Issue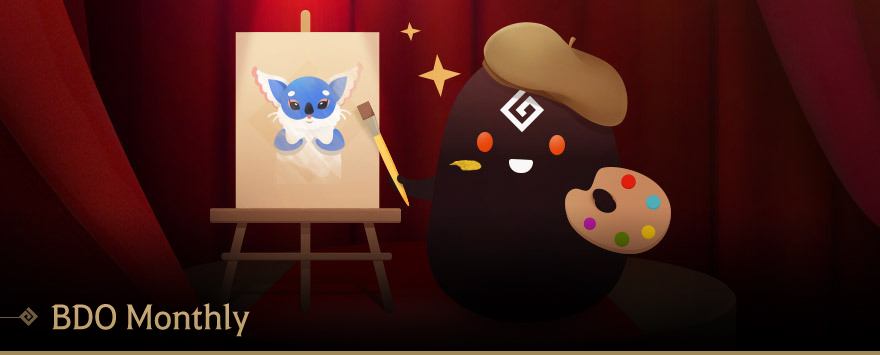 Greetings Adventurers,
BDO Monthly December Issue has just arrived! "ヽ('▽`)ノ" 
Keep reading to see the amazing fan art our adventurers have created and shared with the whole community. So what are you waiting for? Grab a copy and discover who are the Adventurers of the Month!
Magazine Cover
Drawings
Adventurer Heathergrove has shared on the forums a drawing of their Nova equipped with Blackstar gear. Her fanart really makes like she is about to unleash the power of Sting at a moment's notice. En garde Adventurers!


In her masterful drawing, Adventurer Icyria portrays a Shai sleeping after a hard day of work. I think many other Adventurers can relate to this Shai after spending all day Gathering. Also, think you can guess what outfit the Shai wearing? It's the Marigold Sunset Clothes!
Adventurer Chiraviks created a special desert-themed Black Spirit. You can see this version of Black Spirit has evolved into a six-arm form with lots of gold ornaments adorned by rubies. With that trickster smile, we know for sure this version of the Black Spirit is ready to offer us a deal that we won't be able to resist!
Adventurer Rykosis decided to draw their beloved Hashashin while using one of his sandstorm skills. If we check closely the background, we can see he is battling monsters at Hystria Ruins. We're sure this might be Rykosis favorite place to battle monsters! Maybe they are trying to find one of the parts of the Upgraded Compass? If they are, we wish them lots of luck!
Adventurer CalhounFirenight posted on the forums a drawing of their Dark Knight using one of her skills. You can see the vines from her Black Roses and the purple color of her skills. We can see CalhounFirenight loves their Dark Knight a lot and she portrayed her really well! Good job!
Screenshots
Adventurer ShadowSATELLIZER appears one more month in our monthly magazine! This time they are showing us their impressive Guardian. Can you guess the different parts of the outfit she is wearing? Let's see... we can spotthe Ram Horn Witch Headdress, the Shudad Black Armor and the powerful Blackstar Jordun. Be careful if you encounter ShadowSATELLIZER's Guardian, she might be gorgeous, but she is also brutal!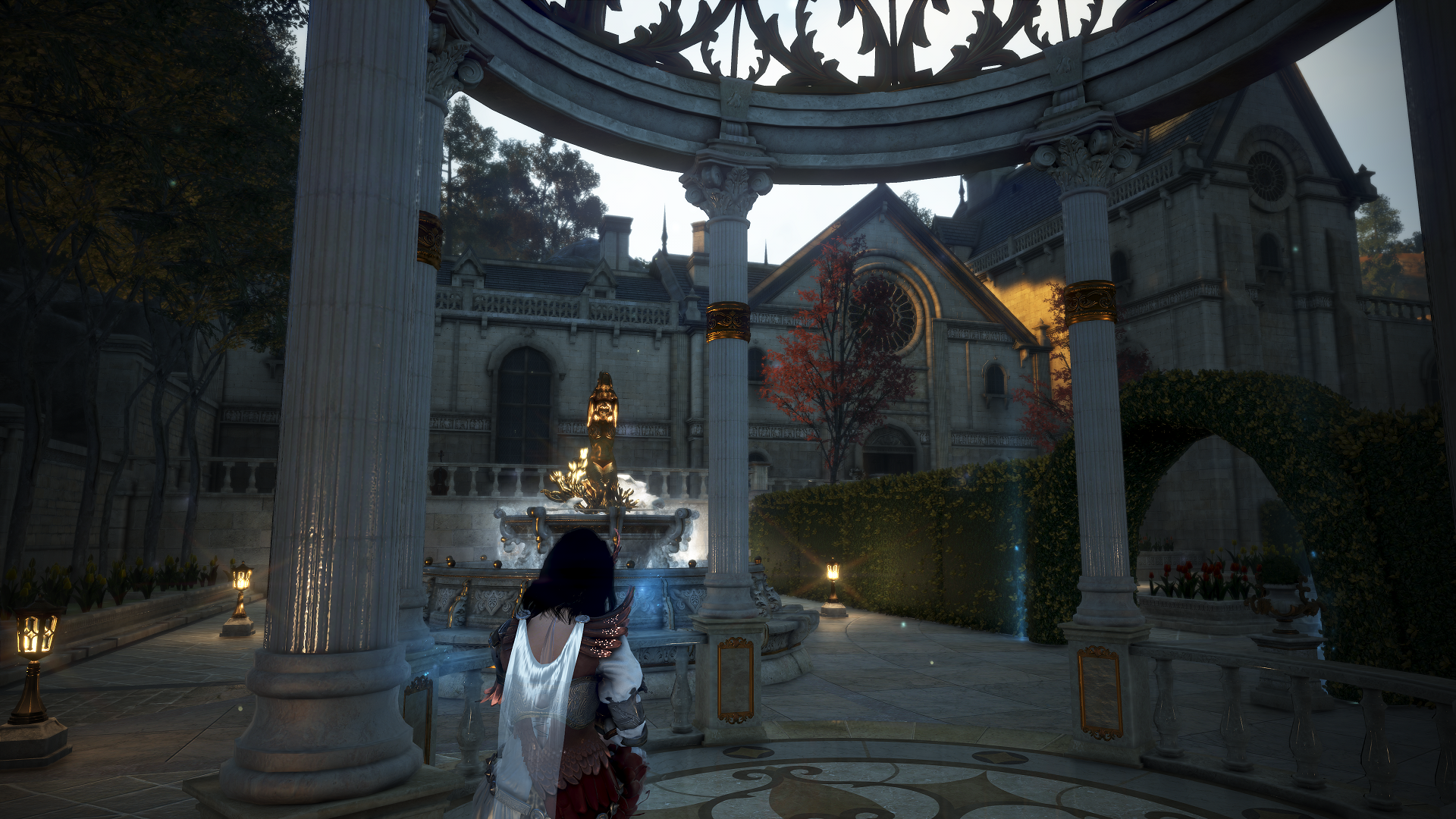 Adventurer KoalaTheBear took some screenshots of the new Blue Maned Lion's Manor. Can you see all the details they added to the manor? They created a huge dining room full of tables and food. Looks like this is a manor from a king! What about the garden? That beautiful mermaid fountain makes the garden a really special place to sit and relax. We are sure KoalaTheBear has put a lot of effort into decorating their manor. We hope you keep decorating your manor to the fullest! 
Adventurer Mirmulnir shared with the community that they finally got the Diné Dream Horse! We are sure they are really happy after getting such a wonderful horse. You can see Mirmulnir first thing after awakening their horse was to go to the desert with Diné and enjoy riding in the desert at full speed! Congratulations!
Guides
Adventurer KyoShiros has created a detailed guide in French explaining to the community how to get the Mythic Arduanatt. If you are looking to learn how to get this majestic dream horse, then this guide is just best option to learn everything in a few simple steps. Thank you for sharing your knowledge with the community!
Rewards
December 2021 Issue's Adventurer of the Month Perks
★ 2,000 Pearls ★
BDO Monthly 30-day Title [Adventurer of the Month]
▲ Preview of the [Adventurer of the Month] Title
January 2022's Adventurer of the Month!
Who is Eligible?
- Adventurers who post on the Community > Fan Art or Tips & Guides from December 1, 2021 and before the end of December.
- Any Adventurer who posts fan art, screenshots and guides, is eligible to be an "Adventurer of the Month"!
- "Adventurers of the Month" will be selected every month, and the total number of selected Adventurers may differ from month to month.
January 2022 Issue's Adventurer of the Month Perks
- 2,000 pearls
- BDO Monthly 30-day Title [Adventurer of the Month]
* Additional Notices
- The [Adventurer of the Month] Title will be sent by in-game mail during the November 10, 2021 (Wed) maintenance. You must open the box sent to you by in-game mail to obtain the title.
- The in-game mail will expire after 14 days and the box containing the title will expire after 7 days. Please make sure to open it before it expires.
- Your winnings cannot be transferred or ceded to another person. Prizes cannot be exchanged for other products of similar value.
- Screenshots, images, videos and guides that are featured in BDO Monthly may be shared on the official Black Desert website or social media channels.
- If your account is restricted for violating the Terms of Service agreement before you receive the event prizes, you may be disqualified as a winner and have any prizes withdrawn even after being selected as a winner.