GM Notes
Feb 4, 2022, 17:00 (UTC)
Quality-of-Life Updates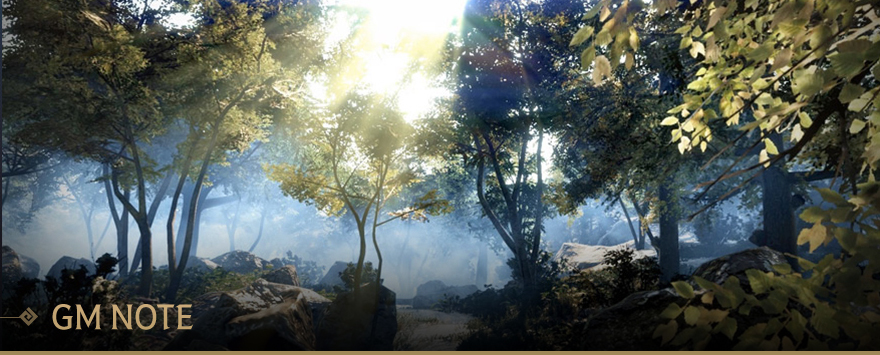 Greetings Adventurers!

In order to provide you with the best Black Desert adventure experience possible, we work hard to continually release quality-of-life updates. Today, we wanted to cover the major QoL updates we've released so far and preview a list of QoL updates that we are currently preparing.
And of course, we are always open to your feedback and suggestions for future updates.
Planned QoL Updates
1. Extend the automatic recall period of Gardens
This was a suggestion given to us by an Adventurer during the 2021 CalpheON Ball's Q&A. As such, we plan on extending the existing period of 1 week to 2 weeks,
* You can see this change in the [Black Desert Global Lab's patch notes for February 4, 2022].
2. Improve the Inventory's automatic sorting feature
Adventurers have shared with us that the Inventory's automatic sorting feature would cause them inconvenience by mixing up the order to weapons/armor and horse gear. We're planning on introducing a feature to allow you to set different criteria for how items are sorted.
3. Allow the manual sorting of Storage items
Adventurers have also asked us about making it possible to manually sort items in Storage. However, this is a feature that requires a complete rework to the Storage's entire structure, which makes it incredibly difficult to implement.
Instead, we'll work on improving features like the Storage's search function to make the Storage a bit more accessible to use.
4. Increase the Pearl Inventory's maximum slots
Due to the allocation of data resources, increasing the maximum cap of various features (Pearl Inventory, Inventory, Storage, Quests, etc.) in the game is in fact more difficult than developing new content.

As a result, it is rather difficult for us to increase the maximum number of slots in the Pearl Inventory. Nevertheless, we plan on developing a "dressing room" feature that will allow you to separate and store outfits, which usually take up a big chunk of the Pearl Inventory. But we hope you'll understand that this feature will take quite a bit of time to develop as it is a large update.
5. Improve the Cooking/Alchemy list
We've heard from Adventurers that having to constantly scroll through the fixed lists for Cooking/Alchemy was rather inconvenient.
We'll review this internally in the development team and look into possibly adding a feature like showing a list of favorites or making the most recently crafted ones show up first at the top of the list.
6. Add an option to remove the sound effects during Cooking/Alchemy
Many Adventurers have requested the option to turn off sound effects during Cooking and Alchemy, and we do plan on adding this feature.
7. Remove the restrictions on Trading and Imperial Delivery when a character is tagged
We understand there are cases where your character's active tag state may be inconvenient such as having to throw away all your caught fish when fishing or being unable to complete a quest that requires turning in a trade item.
For trading, we must consider the future expansion of content and possible elements of exploitation, so restrictions end up being inevitable. However, we will remove the restrictions for Imperial Crafting Delivery.
* You can see this change in the [Black Desert Global Lab's patch notes for February 4, 2022].
8. Swap Narchillan Weapon
Black Desert has many unique classes, which from a new Adventurer's perspective, might make it hard to find the class that matches their playstyle. Since Narchillan weapons are intended for novice Adventurers, we'll add the ability to change the Narchillan weapon to match the class you want to swap to.
* You can see this change in the [Black Desert Global Lab's patch notes for February 4, 2022].
9. QoL improvements for throwing away items
We've heard from Adventurers telling us that throwing away items one-by-one by dragging them into the trash can is a hassle. We'll work on introducing a QoL improvement that allows you to select all the items you want to throw away at one time after pressing the Trash Can button.
Already Released Major QoL Updates
Release Date
Update Details
August 25, 2021
Changed the means of receiving the Ancient Spirits' power so that now you can obtain it through a buff instead of a weapon on the Elvia Realm server.
October 6, 2021

Reworked the loot you can obtain by defeating monsters in the monster zones below to box items.

 

- Bashim Base, Basilisk Den, Cadry Ruins, Taphtar Plain, Waragon Nest, Titium Valley, Desert Naga Temple, Gahaz Bandit's Lair, Shultz Guard

November 3, 2021

Added the function to dye your equipment and outfits with specific colors instead of being limited to the preset color palettes.

 

Added the function to dye your character's hair to any color instead of being limited to the preset color palettes.

November 24, 2021

Added the function to save custom colors in the Color Palette for hair/gear (outfit) customizations in the Dye (J) and Beauty Album (F4) windows.

 

- Open the Color Palette UI, then press the Save Color button to save the desired color.

- These saved colors will remain even after changing servers or disconnecting from the game. You can use them for dying your character's hair or gear (outfit) whenever you please.

November 10, 2021

Revamped the way summoning works with the Ancient Relic Crystal Summon Scroll.

 

- Go to the designated spawn location to interact with the Faded Ancient Relic and use the UI to summon.

- The party leader puts in the number of scrolls according to the stage the party wishes to attempt.

- The party leader and members all get their rewards as loot.

- The difficulty of the boss is determined by the number of scrolls used regardless of the size of your party. In other words, we strongly recommend you bring as many party members as you can.

- Using this revamped method of summoning these bosses has a low chance to spawn monsters who are [drawn to the Ancient Relic]. (Defeat these monsters to obtain additional loot.)

November 17, 2021

Changed the "test NPCs" in Battle Arena from monster-type to character-type.

 

- When skills are used on these test NPCs, any inflicted debuffs/CCs and the number of times the corresponding debuffs/CCs are inflicted will now be displayed.

December 15, 2021
Added the remote installation feature of forts and annexes for guilds participating in Node War.
December 1, 2021

Changed the method by which you can exchange gold bars with NPCs for 120-min buffs.

 

- Changed the items required to exchange for buffs to the following: (Gold Bar 1G x5 → Gold Bar 10G x3)

- Changed the effects of the 120-min buffs to now apply the max effect possible.

January 5, 2022

January 26, 2022

Improved Black Spirit's Rage 100% and 200% skills to gain AP and "Increase Attack/Casting Speed" buffs.
We will keep you updated about future QoL improvements through the Black Desert Global Lab and live server patch notes. Happy adventuring!