Events
Mar 16, 2022, 09:00 (UTC)
The Mysterious Man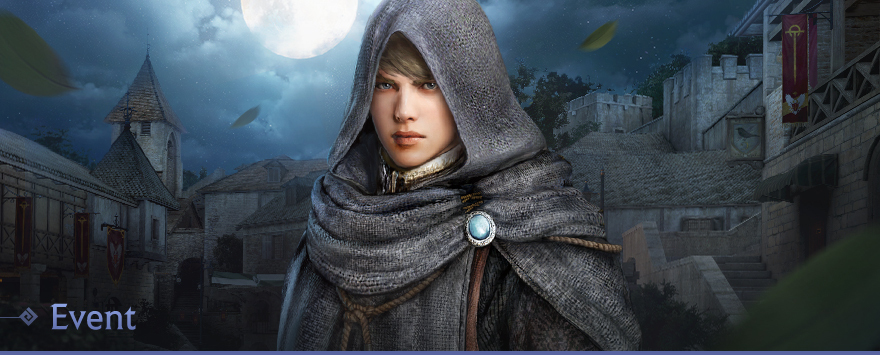 The Black Spirit claims to have some interesting news that someone special has arrived...
Let's find out who! 
Event Period
- March 16, 2022 (Wed) after maintenance - April 27, 2022 (Wed) before the maintenance
Event Details
- Accept a special quest from the Black Spirit during the event!  
Quest NPC 
Quest Name 
Requirement 
Objective 
Rewards 
Black Spirit 
[Event] The Mysterious Man 
Must be Lv. 50 or higher 
Go to the location that Black Spirit pointed out to find the special person 

[Event] Mysterious Letter x1


[Event] Fabulous Bundle x10 
* Right-click the [Event] Mysterious Letter to read a special letter.
* This quest can only be completed once per Family.  
Learn more about the [Event] Fabulous Bundle 
접기
Item Name 
Open the Box to Obtain One or More of the Following
(Depending on a Designated Probability)

[Event] Fabulous Bundle 

[Event] Secret Book of Old Moon (1 Day) x1


[Event] Blessing of Kamasylve (1 Day) x1


Ancient Spirit Dust x100


[Event] Artisan's Memory x2


Valks' Cry x3


Memory Fragment x2-3


Hard Black Crystal Shard x2-3


Sharp Black Crystal Shard x2-3


Cron Stone x3-5 
Additional Notices
- Pearl Abyss reserves the right to change or cancel the event depending on mitigating circumstances. If changes are made, they can be found on this event page.
- Event items may have restrictions (sale/trade) and/or different binding settings/expiration dates. Due to this reason, these items cannot be transferred or restored.
- For details such as whether the item is bound, please refer to the in-game item description.
- Items and/or rewards that were used or collected normally cannot be recovered.
- Participating in the event using inappropriate methods may result in a cancellation/retrieval of your reward(s) and/or restriction from the game.
- For any questions or concerns regarding the event, please contact us via the [Support].
- Any content not mentioned on this page is subject to the [Black Desert Event Rules].