GM Notes
May 13, 2022, 15:00 (UTC)
BDO Monthly - May 2022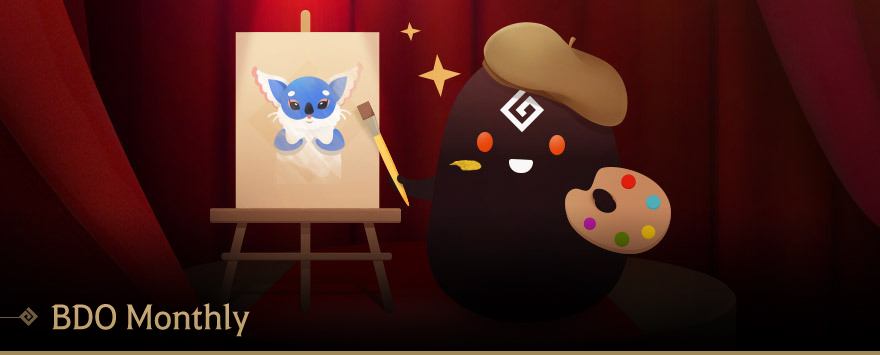 Greetings Adventurers,
The BDO Monthly May issue has just arrived! Grab a copy while it lasts!
This month our adventurers have shared tons of artworks and screenshots of characters and a video about the Black Spirit! Are you ready? Let's start reading the magazine!
Magazine Cover
Drawings
Adventurer Claytton created another magnificent art piece of their Dark Knight. The eyes of the Dark Knight pierces your very soul, with such beauty and splendour. For every rose has thorns, a danger that is so alluring.


▶ Still in love with DK - Claytton
▶ ArtStation
Adventurer Mercuel is back again with a beautiful picture of Drakania. You may remember their "Chibi Warrior" from the February 2022 issue of the BDO Monthly. We love the vivid colours that Mercuel used to depict Drakania in this picture. Drakania's eyes almost seem to be focused on something… or someone…
▶ Drakania Portrait in celebration of Her Release \o/ - Mercuel
Nadriel, created a wonderful portrait of Guardian donning the 'Winter Mountain Guardian Spirit' costume. Nadriel was able to capture the intricate beauty of the equipment that the Guardian is wearing. Don't let her looks fool you, for she wields the holy flame that can even destroy the Gods.


▶ Guardian Fan Art - Nadriel
Adventurer Yakamori has created an art piece of their cute newborn crimson drake mini-pet! Such a cute face, however, will it stay that cute when it grows up?  


▶ Newborn Crimson Drake ♥ - Yakamori
SsosaMab created a commissioned piece for Ganzii, a character dressed in the Kibelius outfit! A fallen Angel with wings coloured in obsidian and twisted Ram Horns. The art style is so delicate, which lends itself to the image's overall aesthetic.


▶Kibelius♥ - (SsosaMab)
WickedWazer commissioned an art piece of their Valkyrie from Essan43. The Valkyrie looks like a master tactician, preparing for an arduous battle! The manga art style lends itself to the piece, resulting in a wonderful portrait.


▶ Paladin Commission from Essan43 - WickedWazer
Adventurer Rebeca created a wonderful art piece of their Dark Knight. For us, we felt the art piece had a style similar to a comic book. The solid black inking creates a stunning visual impression. Be wary of a Dark Knight standing within a field of roses…


▶ Dark knight - Rebeca
Notfuton took some amazing screenshots of their Wizard in the Corvicanus Outfit. The fire lends itself to the mood of the image, showing the power that the Wizard has within its fingertips! Playing with fire is very unwise, however, when you have mastery over the elements…you become one with fire!
Unikornu Takes us on a journey with their screenshots of their new family member, the Archer! "Each season means adding another valuable member to our families". We loved the message that Unikornu shared alongside their screenshots, as each season brings a new adventure, a new story!


Video
BunnyoBuu has created a meme video depicting the cute, but pesky, Black Spirit being mischievous as usual! We can all relate to this, making it a very enjoyable and funny video to watch!


May 2022 Issue's Adventurer of the Month Perks
★ 2,000 Pearls ★
BDO Monthly 30-day Title [Adventurer of the Month]
▲ Preview of the [Adventurer of the Month] Title
June 2022's Adventurer of the Month!
Who is Eligible?
- Adventurers who post on the Community > Fan Art or Tips & Guides from May 1, 2022 and before the end of May.
- Any Adventurer who posts fan art, screenshots and guides, is eligible to be an "Adventurer of the Month"!
- "Adventurers of the Month" will be selected every month, and the total number of selected Adventurers may differ from month to month.
June 2022 Issue's Adventurer of the Month Perks
- 2,000 pearls
- BDO Monthly 30-day Title [Adventurer of the Month]
Additional Notices
- The [Adventurer of the Month] Title will be sent by in-game mail during a following maintenance. You must open the box sent to you by in-game mail to obtain the title. 
- The in-game mail will expire after 14 days and the box containing the title will expire after 7 days. Please make sure to open it before it expires.
- Your winnings cannot be transferred or ceded to another person. Prizes cannot be exchanged for other products of similar value.
- Screenshots, images, videos and guides that are featured in BDO Monthly may be shared on the official Black Desert website or social media channels.
- If your account is restricted for violating the Terms of Service agreement before you receive the event prizes, you may be disqualified as a winner and have any prizes withdrawn even after being selected as a winner.