2022
Screenshot Mode Revamp
Screenshot Mode (Ctrl + U, Photo Gallery) has been revamped.
First we added a guide (toggled by F1) on the side which lists the different hotkeys and relevant settings.
These hotkeys will make it easier to adjust visual effects such as filters, blur intensity, gamma, and contrast, etc.
We also added the ability to adjust the ambiance, as well as the time and weather, in your photo so that you can take the best pic suited to your location.
From the quiet hours of dawn to the pitch dark hours of night, with weather ranging from clear skies to cloudy days, you can choose the best settings to take that quality picture. (Sadly, rain or snow cannot be changed on whim).
Last but not least, we also added the function to perform Social Actions in Screenshot Mode.
Along with the addition of Slow Mode (Hotkey: U), which slows down your character, these functions will help bring out the best side of your character for your photo sessions.
We look forward to seeing the marvelous photos that our expert photographer Adventurers will take. Thank you.
● Revamped Screenshot Mode.
* Press Ctrl+U to access Screenshot Mode.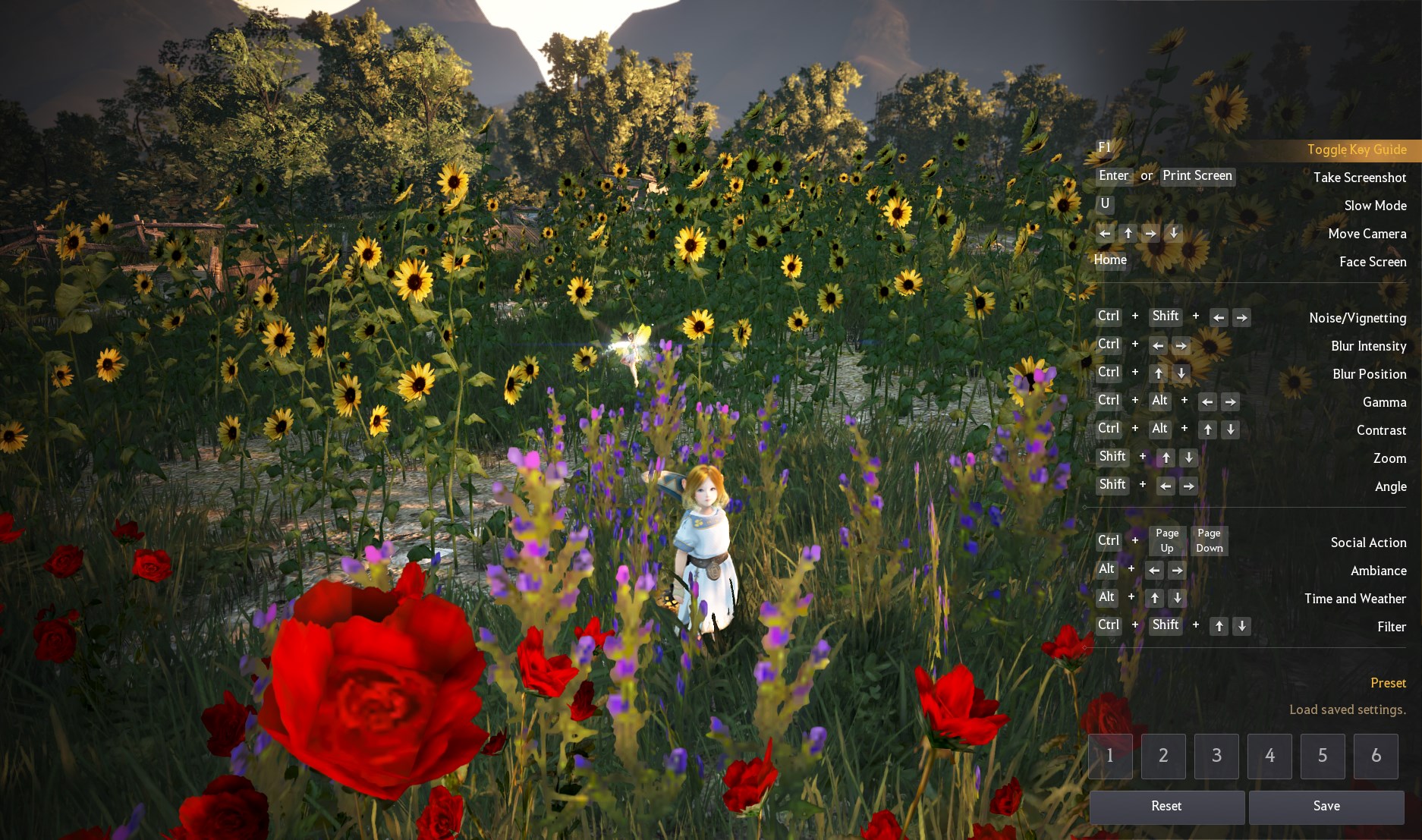 - A guide has been added to the right side of Screenshot Mode that labels all the different hotkeys and settings.
* Press F1 to hide the guide.
- You can now also use your mouse to select and adjust Screenshot Mode settings.
- Added the ability to adjust weather, time, and Social Actions in Screenshot Mode.
▲ Social Actions
* TIP: You can find even more Social Actions to learn in the Quests (O) - Suggested tab.
▲ Time and Weather Settings
▲ Ambiance Settings
- Added Screenshot Mode presets.
* You can now save any changes made to noise/vignetting, blur intensity/position, gamma/contrast, zoom, angle, ambiance, time and weather to specific presets in Screenshot Mode.
▲ Load/Save Presets
- The camera will no longer follow your mouse movements in Screenshot Mode.
● Improved the Photo Gallery so you can now use Screenshot Mode to take screenshots.
- You can now use WASD to move your character and the directional keys to move the camera when taking screenshots from the Photo Gallery.