NPC Exchange
Last Edited on : Nov 29, 2023, 15:53 (UTC)
There is an immense amount of items in Black Desert, of which many are obtained from defeating monsters.
These are often referred to as 'trash loot' by Adventurers. While a great deal of these items are better sold in the Central Market, and others can only be sold to an NPC shop for silver, some can be exchanged with other items for a bigger profit than what you would get by simply selling them for silver.

In order to carry out an exchange like this, you need to collect a certain amount of the item in question and take them to the designated NPC. The NPC will then offer to exchange the looted items for a fixed item of appropriate value.
You can check which items you've obtained from defeating monsters are exchangeable through their tooltip.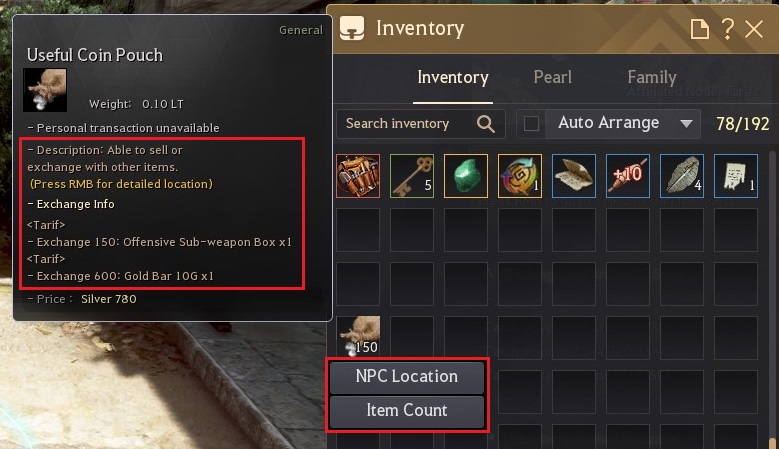 The item above is named 'Useful Coin Pouch'. When you take a look at its tooltip, you can see it can be exchanged at Tarif. It also says that you will need x150 of this item to exchange it for an Offensive Sub-weapon Box, or x600 if you want to exchange it for a Gold Bar 100G.

If you collect x600 of this item and sell it to an NPC shop, you'll get 468,000 silver. If, instead, you exchange the x600 units of this item to the designated NPC in Tarif, you'll receive a Gold Bar 100G, which is valued at 1,000,000 silver. You'll get more than double the amount of silver!
For these types of items, right-click the item in the inventory to take a look at the NPC Location and the Item Count options.
The NPC Location button is a navigation function that shows you the way towards the NPC you have to meet to make the exchange, and the Item Count button shows the number of items you've collected. This way, you can see and keep track of the number of items when you're in the field defeating monsters.
If you select Item Count, the item icon and number show up next to the minimap. If you want to move it, hold-click the icon and move it to your desired position.
Note that this option can also be used with other items that do not offer an exchange at an NPC, and helps you keep track of their number.
All NPCs that can have an item exchanged for another will have an Exchange option in their interface. This way you can check what items to keep an eye out for even if you have none yet.
When exchanging items, the number of items you possess will also appear in the exchange window, to the right of the item's name.
If you make good use of this feature, you'll be able to obtain bigger profits during your journey throughout Black Desert's world.​​​​​​​
---
* The content of the game guide may differ from the actual game content, depending on the update and content changes.